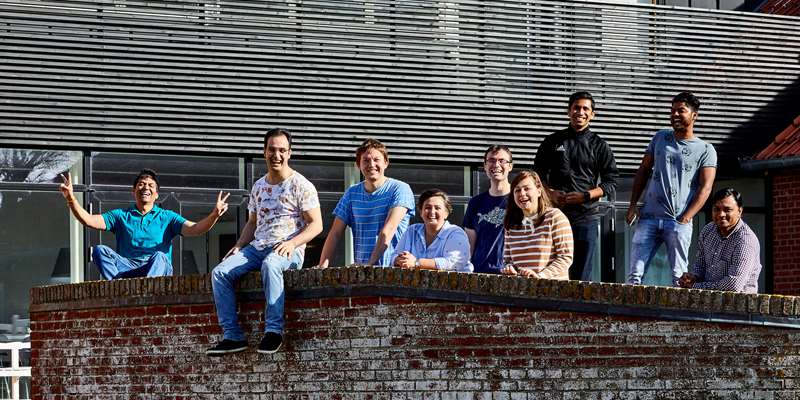 Career Campus
An international study environment in Ringkøbing
During an internship or project-oriented stay in the Ringkøbing-Skjern area, students/employees have the opportunity to stay at the Career Campus. Here, we have created an environment where students and newly qualified employees with various professional competencies and cultural backgrounds meet and live alongside one another.
At the Career Campus, we also assist residents with any practical matters that may arise in connection with a study- or work-related stay.
Our vision is to develop an alternative and flexible community for talented, dedicated, and highly educated graduates while also contributing to the positive development of the business community in Western Jutland. We have succeeded quite well in doing so!
Accommodation and rent
The Career Campus consists of 32 furnished rooms from 25-30 m2. Each room has its own toilet and bath and is equipped with a bed, desk, bedside table, wardrobe, and lamps. In addition, shared kitchen facilities, TV lounges, activity rooms, and laundry rooms are for everyone to use.
The monthly rent is 3700 DKK and upwards and includes water, heat, wireless internet, and cleaning of common areas. We offer both single and double rooms.
Are you interested in further information? Call or e-mail Majda Overby at 99 75 26 11 or maj@rserhverv.dk.
Transportation
Usually, the resident and the company agree on payment of the living and transportation costs during the internship or project-oriented stay.
Spare time
In the Ringkøbing-Skjern area, you will find a wide range of clubs. Perhaps you want to join a book club or attend boxing, cycling, swimming, kayaking, badminton, football, or handball? At the Ringkøbing-Skjern Municipality website, you can find a list of the various clubs in the area (in Danish only).
We also recommend that you read more about our municipality at flytmodvest.dk.
About Ringkøbing
Ringkøbing has roughly 10,000 inhabitants, but cheerful guests who are eager to buy visit the city every day throughout the year. They spend their holiday in the local neighbourhood or in the great holiday area by the North Sea, which is only a 15 minutes' drive away from Ringkøbing.
The inhabitants in Ringkøbing and the many visitors create a vibrant city life. You can in particular experience the great atmosphere at the city square or at the harbour while enjoying a cold beer or a delicious fish burger. Ringkøbing is a charming market town, and the old, well-preserved houses and cobblestone streets hold lots of history.
Ringkøbing has a large variety of intriguing stores and delicious eating places. The city also offers a great cultural life, which, among other things, includes a cinema, a library, bowling alleys, galleries, museums, and a vibrant associational life.
We can find a job for your partner too
Do you have a partner? Ringkøbing-Skjern Business Council can help newcomers find a job in the municipality.
This service is directed at potential newcomers. At the website, you can upload your CV, and we will subsequently place it in our newsletter, which we send to a range of companies and institutions in the municipality. After doing so, companies will be able to contact you, and we are ready to share your CV throughout the following six months, whenever your competencies are required.
The Career Campus is a former retirement home in Ringkøbing. The charming buildings are from 1911. The interior, however, had a complete overhaul in 2015.